This plant attracts the following butterflies:
Common Blue, Gatekeeper, Painted Lady, Red Admiral, Small Tortoiseshell, Small White.
Memorable images of 2003:

Small Tortoiseshell. August 16.

Common Blue. August 22.

Gatekeeper. August 8.
Past Images: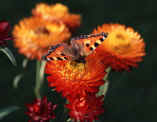 Small Tortoiseshell. September 2002.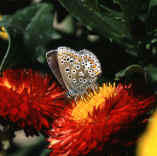 Common Blue. 20 August 2000.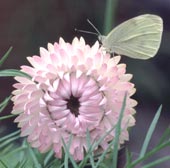 Small White. 2001. (No full size image available).
notes:
I have bought 'Hot Bikini' seed. These are shorter, sturdier plants with bright red-orange flowers. I grew them from seed sown on March 15 2000 and planted them outside in the middle of May. There were four plants still flowering in December, which I photographed surrounded by snow.
I've also photographed a tiny moth called Pyrausta aurata on Helichrysum. It's a day-flying moth which I've seen in both the Cirencester and Wiltshire gardens.
Reference Section
Plant Type: half-hardy annual
Flowers from June/July until winter rains destroy
Height: 30cm-1.2m (1-4ft)
Spread: 15-30cm (6-12ins)
Tall varieties need support.
Cut some buds and dry in airing cupboard for use in winter dried flower arrangements.
This page last updated April 18, 2004